On my journey to the larger side of life - Entrepreneurship, I have been gathering chunks & bits about how to make my way through this, what appears to be an upward spiral of combined effort and demeanor. And whilst watching some internet videos I saw some successful entrepreneurs and pundits straining their words around 'CONNECTION'.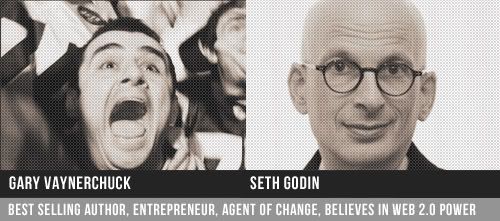 Before diving into the meat,  its very important to let you all know, the content in the article is based on the colloquy  of Seth Godin and Gary Vaynerchuck, fair chances are you have been already touched by their  aura, if not, just 'google' them, they are agent of change and quite inspirational to any individual.
Back to the topic, the world is getting connected more than ever. We have things at hand which were never possible a decade ago before the advent of social media. During a conversation with my Facebook friend Chris Schneider, a fact  so true, surfaced up my mind, the  'Internet' when happened had a major impact on the world but social media had the impact on a much bigger scale. Planet Earth was more than fascinated at the idea of a connected world, digital data getting distributed from one end of the world to other end without actually having to travel the distance. But I think, internet alone never served the purpose of connecting the world for the masses. Yeah, of course the big fat organizations were leveraging  the enormous energy harnessed by the World Wide Web but the phenomenon was not scaled to the common people until social media happened. It reinvented the purpose of internet for people like  me and you. It created communities, industries, technologies and so much more. The magic of social media according to me, is the enthusiasm that it brings in among people. People connect with people, people connect with brands, people connect with causes, people connect with emotions, and that left  the internet to be comprised of these heterogeneous relations.
The rest of the article will explain two major areas of  transition, spreading of ideas and interaction of brands with consumers, courtesy social media.
SPREADING OF IDEAS
History says, throughout its existence, examples were born out of mankind who were agent of change. And change is a consequence of an upsetting element in the status quo and then an invasion of a simple idea. Now, there is a lot after when an idea invades your mind. Most of the time, for most of the people, it escapes due to their ignorance deep inside to really lend a hand in writing a story of change. And they don't participate in my article. Let's talk about the ones, who conceives an idea, starts believing in it and work on it to finally upset the status quo that lead to a revolution.



Though its always motivating  to hear a simple idea amplifying into a movement or a revolution, making the world a better place, a lot of effort goes into spreading of the idea. And that is what interests me . Spreading of an idea post the industrial revolution had got to do a lot with the ever advancing trends in technology.

'Spreading of Ideas' goes through transition whenever a better medium and technology comes into existence. Ideas that had the potential to change the world needed to have a huge impact on its citizens and you can just imagine the scale at which it had to be spread.

The first of the major breakpoints in the evolution of spreading and implementing  of a world changing idea should be credited to Henry Ford, the founder of Ford Motor Company. He brought the trend of using ever faster machineries in his factories and  getting cheap labors who were otherwise paid negligible amount at their earlier work, thus bringing in a huge hike in the production rate. And his model was soon followed by many and the 'then' big players in the industries produced their ideas at a pace which never had been possible before and thus boomed consumerism. The boom lasted for a long time until came a saturation point  where both faster machines and cheap labor were hard to find.
Then came, Mass Marketing, which really focused on spreading of idea rather than implementation of it. This model needed the big guys to have average ideas for it was targeted  towards the mass.  Advertisements hypnotized the consumers into buying their stuffs. With rapid advancements in technology and introductions of new dimensions to media, advertisements soon became the major player of monopoly on television and internet. This gave people with money but gross ideas and products to repeatedly pitch people with their fluffed up ads and false promises.  If nothing worked, babies and doctors in ads came to the rescue. This constant allure of 'buy my  idea/product ' has caused us to ignore advertisements in the recent past. The main reason behind it, as I see, we were forced into buying ideas that otherwise we wouldn't.

So what according to me is the new and the best way of spreading ideas. Well, its not me saying this, but Seth Godin. At this moment in time, spreading of ideas , is living in a transition and all credit must be given to the barrage of people joining the social media force, making their voices heard and also listening to other voices.

Social Media connects people, that's the simplest definition. But the thing which exists there and we don't scratch our head for it, is social media gives the power to connect with any people around the world. And I am stressing on an individual, not any profound organization and brand. And the prime reason we connect with people is somewhere we have overlapping ideas and emotions.

Now when a scenario like this, an individual without the money comes up with a vibrant idea, pre social media, he had the only option of getting his idea funded by any big bulky person wearing a tie but post social media you are already witnessing the boom of entrepreneurship. And why only talk about idea, we have seen people in the recent past connecting with each other to create movement against governments.  And its not esoteric to understand that  it gets way better when people connects to your idea/cause because they themselves want to change the status quo instead of persuading them to go for it.  Getting people who really connects to your idea, represents your idea, is all that you need.  You don't need everybody to believe in your idea. Maybe you need just a thousand who can represent your idea and maybe establish it in different geographical areas. The chain spreads out like this and it creates into a movement.

Seriously, social media is a great (or you may argue the only one) asset for entrepreneurs, independent artist, or for anyone who is trying to follow his/her own passion or bring a change in the society, be it anything which needs cooperative effort behind it. You don't have to be an organization or a venture with lots to put in the advertisement to create a huge impact on the world, anymore..

I have two interesting stories on the context of this article. The common thing between them is shoes.
Blake Mycoskie on his adventure to learn Polo in Argentina discovered a style of shoe called  Alpargata. When he toured a village in Argentina, he saw kids bare footed and in need for shoes and he created TOMS (mostly resembles 'shoes for tomorrow'). What TOMS did was redesign Alpargata with colors and patterns and introduced an "One for One" paradigm - A person buys a pair of shoes and a needy is helped by another pair of shoes. As Alpargatas were quite different from everyday shoe, it grabbed a lot of attention, and the story of charity soon spread.


Another endeavor who got lucky with shoes is  Zappos. Tony Hsieh created a platform where people can get on with their passion for shoes and the venture eventually touched heights.

So, till now, the article tells you how social media can empower an individual's idea by organizing  people  of same school of thought otherwise scattered.
HUMANIZATION OF BRANDS
Now, although the world of advertisement is still going strong, social media brings in totally different challenges and opportunities for BRANDS. Suddenly, brands and organization got the opportunity to behave more like a human. Can you imagine pre social media, if people had or wanted to connect with their shoe brands or restaurants, telling them how much they love their new product or their stores, blah blah ?? Absolutely not. But this is so happening now. Not only brands have the probability of tapping every end users but also users get to share the brand with other users. You can never think of a situation like this, where I went into a pizza shop and was enthralled by  the taste, got lost in the dripping hot cheese, and at this pleasant moment I start calling everybody up on my contact list and starts spreading the message of how enjoyable it was to make love with that brand's pizza and suggest them to do the same someday. We would never do it. And if you are positive at this, then you are an alien. But this era of social media, have made this so common. We check in, we like, we tweet, we suggest, do all sort of things that brands will be happy to kiss us for. Brands also can really make it up to their consumers by connecting with them, making them feel special, answering their queries, sharing upcoming stuffs, giveaways,            sometimes working on social concerns, creating a movement. What's happening is the intermediate medium between brands and consumers are taking a back seat. I think that's great for consumerism.
Its human nature to feel special  when they talk to a big entity, converse with the one who is behind their favorite product. And somehow a relation starts forming, people starts to shape up an opinion  about a brand based on the daily social activities it does. To be frank, there is a lot of warmth around which is always good for humanity, I think.
So, many brands are reaping the rewards of social media which is getting more brands to jump the bandwagon. Around me, every brand is into social media. And I guess in the long run both consumers and brands will be the winner. It's a win-win situation unless a brand decides to take its social media following for granted and smoke weed all day without bothering show love to their followers.
Are you reading this darn line?? Thanks a lot. I hope, we cross roads someday and get you a beer. Wash your eyes. And I would love if you comment on this or share this painful article with your friends. Everybody got to know how we are evolving. No SOPA and No PIPA around enjoy the freedom.
Throughout my life I have been inspired by many entrepreneurs and finally chose to be one. I just love the fact that an idea, a derivative of your own brain can have such a huge impact on the world. And people who are thinking its quite glamorous, its absolutely not. Its something that will put you through many tests, make you sacrifice a whole lot of things but its worth it.

My fellow entrepreneurs, this video is for you, to make you remember how awesome you are to embrace such a path.